Businesses don't become successful overnight—it's a mixture of long hours, expert planning, exhaustion, and a team of people who support your vision every step of the way. When Ed Van Oene, President and CEO of Bay Resource Group, decided to start his own company in 2002, he knew he needed a team who cared about his venture just as much as he did, which is why he turned to Andrew Janzen.
Ed and his wife Lenore, Partner and CFO of Bay Resource Group, met Andrew more than 20 years ago while volunteering at the White Rock Rotary Club, and they soon began turning to him for all of their insurance needs. Andrew's diligence, account management, and proactive demeanour surprised both Ed and Lenore, and they knew that he was the type of person who could handle the challenges ahead and help them make their business a success.
"Andrew has been with us since day one. He is excellent at supporting businesses as they grow and experience change."
Ed had big plans for Bay Resource Group, and knew from Andrew's active and inquisitive attitude that he was the right person to keep on top of the ever-changing needs of his growing company. Due to the risks involved in manufacturing and handling heavy flooring products, and the company's aggressive plan for growth, there was a lot of work to be done in the early days for Andrew.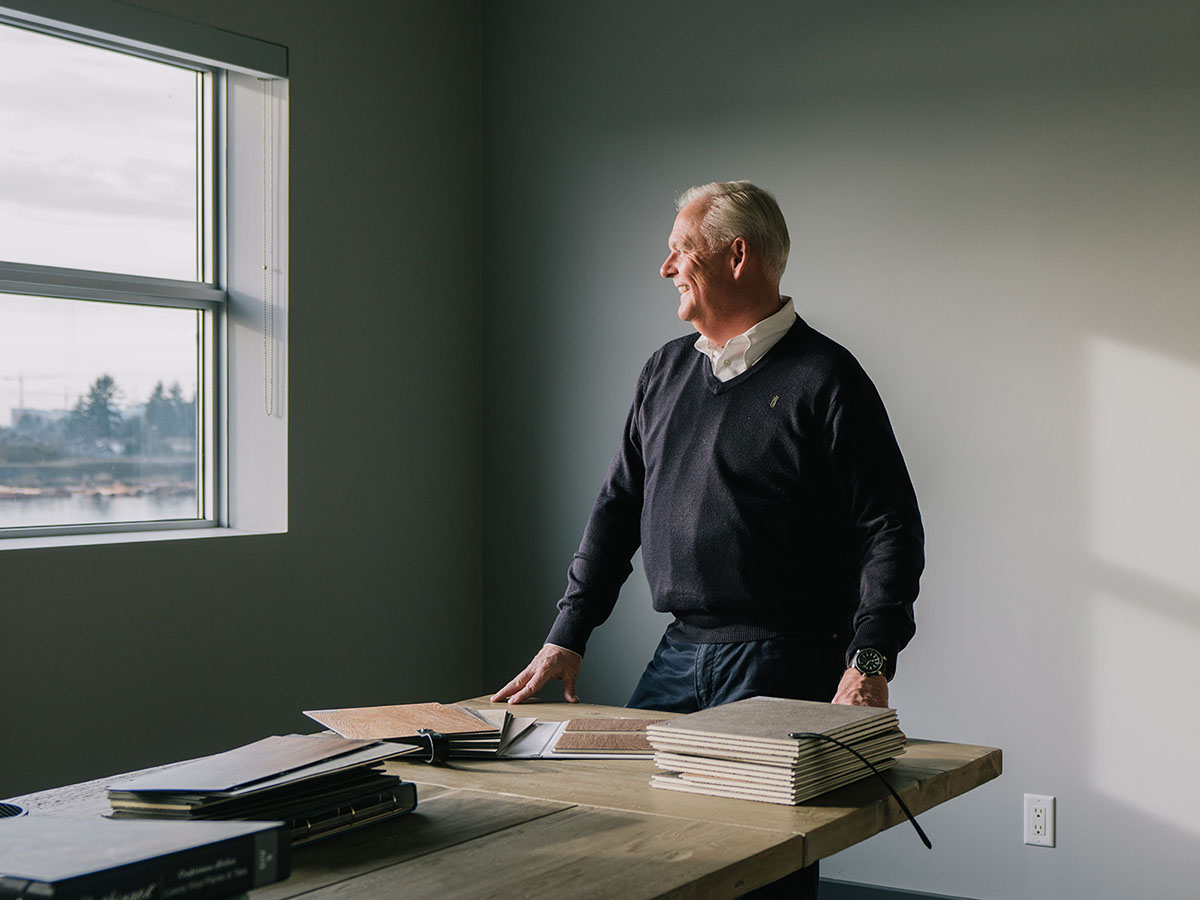 Lenore barely remembers those hectic days and reminisces how, in the beginning, "we went from making one sale a week to making hundreds of sales a week, and during this period, we didn't know what our insurance needs were." But Andrew stepped in. During this chaotic time, the Van Oenes were grateful to have a partner like Andrew who understood the needs of their business and who took it upon himself to protect their business like it was his own. "Andrew was so diligent at making sure we were covered correctly and was proactive about insuring all of our product. He advised us on different types of insurance specific to our business and continuously worked to find a solution that worked for us."
Today, Bay Resource Group has undergone massive changes and now employs eleven sales representatives in Western Canada and eight support staff in their offices. With distribution agreements covering Eastern Canada and the United States, warehouses housing millions of dollars' worth of product, and a small fleet of machinery, it's easy to say that Bay Resource Group has come a long way from that garage in White Rock, and part of that success is thanks to Andrew Janzen.
When a company starts booming—opening new warehouses, operating machinery, having millions of dollars' worth of product on hand, handling more clients— there is a greater opportunity for risk, and Andrew has continued to be the Van Oene's go-to risk manager. It's a relaxing feeling to know your business insurance needs are taken care of, and Lenore definitely feels at ease when it comes to her family business and their coverage:
"Andrew always makes us aware of any potential risks and gives us the information we need to make sound business decisions. No matter what changes we make, Andrew is there for us and proactively handles all our insurance needs."
No matter what changes we make, Andrew is there for us and proactively handles all our insurance needs.
When asked about their experience with Janzen Insurance, the Van Oene's couldn't be happier:
"Andrew and his team always ask the right questions. We trust them to insure everything from our business, to our vehicles, to our home. With Janzen, we never have to worry about our insurance and whether or not we are properly covered."